Looking to fill your house with furniture but can't find anything good or affordable enough? Then, you should try DIY furniture.
Many DIY projects are easy to make in your spare time and you can also buy them from other people. DIY furniture is often better because you can buy them for cheap and great even for the most peculiar taste. From couch, bench, table, wardrobe, to storage containers, you can find or create them all.
I want to remind you again that DIY should be cheaper than buying factory-made furniture. This helps you save up money for your monthly expense and still able to get all the furniture you need. And who knows? Perhaps you can even make money from your DIY skills.
DIY charging station
Recently, I keep seeing DIY charging stations everywhere. And I came to like them honestly. They look good, easy to make and reduce clutter. You can even create a bigger charging station to charge all your devices.
If you have a collection of scrap wood, you can use them for your DIY charging station. You can also use an old letter sorter or a wood organizer as a charging station. Search your attic and see if you can find some.
I've seen some DIY charging stations that look better than any expensive charging station. And you too, can get it for much cheaper. Basically, you need to cut a piece of your board, create a hole that fits your phone and polish the board.
DIY bike rack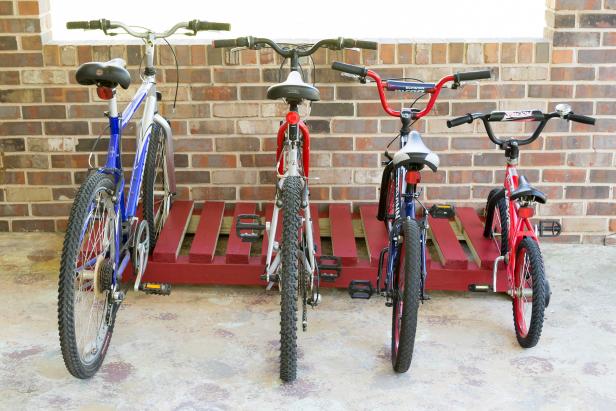 Another expensive piece of furniture that you can make for cheap. This is especially great if you have kids, and they love bikes. You can certainly save a lot of money this way.
You need two 4×4 6-feet long, pressure-treated lumbers. Adjust the length depending on how many bikes you have at home. Next, you need at least a dozen 2×4 20ish inches long, pressure-treated lumbers. Basically, you just secure all the lumbers with nails and it'll make a good-looking and secure bike rack.
You can place it in your garage, on the porch, or wherever else you want. This DIY bike rack doesn't need much space at all. Naturally, the more bikes you have, the longer the bike rack is going to be. Overall, it won't take you a day to create this from scratch.
DIY nightstand
Nightstands are small and simple furniture that can enhance your bedroom greatly. I am still amazed at how great this piece of furniture is. And to make it even better, you can easily make one yourself.
The easiest way to make a nightstand is by reusing an old small table. You just need to clean it and smooth out the edges if necessary. Otherwise, you'll need three 2x4s to make one. The whole thing shouldn't cost more than $10 each.
DIY floating wooden shelf
If your place is rather small and you want to be as efficient as possible, a DIY floating wooden shelf is the answer. This kind of wooden shelf can help you store and display things nicely without eating too much space at all. You can put books, photos, candles, or other personal items on the floating shelf.
This is one of the easiest DIY projects that you can do. Adjust the height, length, and width of the shelf depending on what you need and how much space you have. You can build as many as your walls allow you.
As for finishing, you can do pretty much anything. Maybe sand it down to make it looks smoother and nicer.
DIY kitchen table
Okay, it's time to take on a bigger DIY project. A DIY kitchen table is awesome, and I love it so much. It really makes your home feels homier.
You can create a big kitchen table by using several 2x4s. Make sure that the legs are sturdy and stable enough, you don't want the table to sway around while everyone is eating. This is also your chance to have your own farmhouse kitchen table for cheap.
If you're up for the challenge, you can create a matching set of chairs as well. You can make several normal-looking chairs or two long benches. A DIY kitchen table can save you up to hundreds of dollars and that is more reason to do it.
Cheap and easy
I hope this list can give you the inspiration that you're looking for. The idea behind this article is that I want to tell you my ideas about great and easy DIY furniture projects that can also help you save a lot of money.